Rainbow Veggie Cheese Lovers
Parsley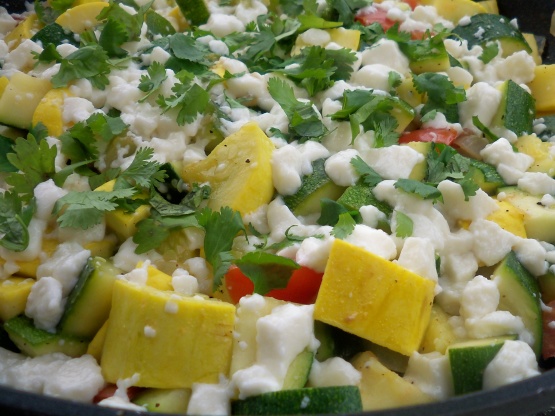 Multi-colored vegetables make this cheese delicious and pretty! Serve with garlic bread for a great summer lunch.

FANTASTIC! What a great mix. I used olive oil instead of butter, and added some spice (Cayenne pepper and a bit of salt). My husband wont eat cheese, so I made his without, and it was still great. I didn't have a fresh tomato when first making this, so I used canned diced tomatoes with jalepenos. Wow. It gives a great kick (drain well). This can easily serve as a side dish, or a great topping for some whole wheat pasta. Reheats well too -- great for spicing up some leftover chicken and/or rice. Thanks for a healthy, and beautiful dish.
4

medium zucchini, quartered lengthwise and thinly sliced

2

medium yellow squash, quartered lengthwise and thinly sliced
1⁄2 cup finely chopped onion, white
1⁄4 cup finely chopped tomatoes, red

2

cups crumbled queso fresco (mexican cheese)

1

teaspoon minced garlic

1

tablespoon butter

1

tablespoon finely chopped cilantro (to garnish)
Heat the butter in a large skillet over medium heat. Add the onion and garlic, and cook 5 minutes, or until the onion is slightly tender. Stir in the zucchini, squash and saute just until it begins to soften, about 5 minutes. Mix in the tomatoes and raise the heat to medium-high. Cook, stirring often, until the zucchini and squash are tender but not mushy and the juices have evaporated. Sprinkle with Queso Fresco crumbles over zucchini/squash at a low simmer. Cover and cook the cheese until just tender, about a few minutes. Sprinkle with cilantro to serve.