Rainbow Trout With Wine & Tarragon
Chouny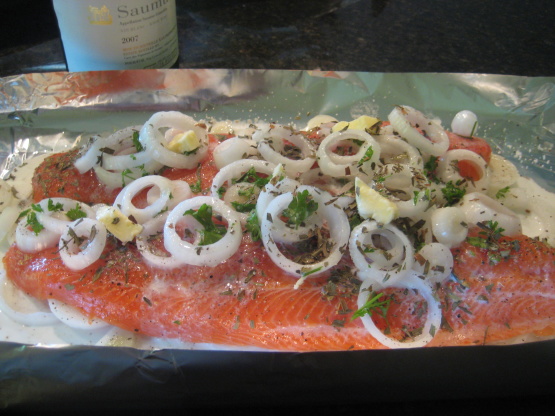 I really enjoy this way of cooking trout or any other fish. It's simple and delicious also very moist. You can cook it in the oven during winter months and on the bbq in the summer season! Hope you enjoy...
Cut two large pieces of aluminium foil.
Remove skin with knife.
Slice the onions, place half of the sliced onions on first piece of aluminium, place the trouts over the onions.
Top trouts with remaining onions, tarragon, butter (cut in small pieces).
Pour heavy cream and wine over the trouts.
Season with salt & pepper to taste.
Place second aluminium foil over the prepared trouts and close tightly all around.
Cook for 20 minutes at 350 or over the BBQ.
Unwrap and serve with basmati or jasmin rice.