Karen..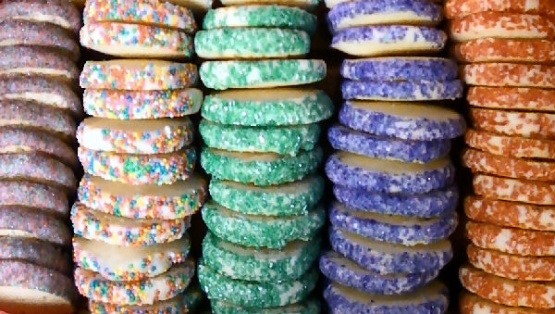 Perfect for bake exchanges because it makes a huge batch! From Parents Magazine December 2003. Prep time does not include chilling the dough.

These are great for cookie exchanges or bake sales! I coat the rolls in the coloured sugars or sprinkles before the dough rolls are chilled so that the sugar or sprinkles stick to them better, but that's the only change I make. I only get about 100 cookies from a batch because I like my cookies thicker and softer.
2

cups butter, softened
2 1⁄4 cups sugar

3

egg yolks

1

large egg

1

tablespoon vanilla

1

teaspoon salt
5 1⁄4 cups all-purpose flour
1⁄2 cup red colored crystal sugar
1⁄2 cup orange colored crystal sugar
1⁄2 cup yellow colored crystal sugar
1⁄2 cup green colored crystal sugar
1⁄2 cup blue colored crystal sugar
1⁄2 cup purple colored crystal sugar
In large bowl, with mixer on high, beat butter and sugar until light and fluffy, about 3 minutes. Add egg yolks, egg, vanilla, and salt, and beat well to combine.
With mixer on low, gradually beat in flour. Divide dough into 6 equal pieces, roll each piece into an 8-inch log, and chill 15-20 minutes. Working with 1 roll at a time, roll in 1 color of crystal sugar and then wrap in saran wrap. Continue until all are rolled in colored sugar and wrapped.
Refrigerate completed rolls for 3 hours or overnight.
Heat oven to 350°F.
Cut logs into 1/4 inch thick slices, and place on greased baking sheet 1/2 inch apart. Bake 12 to 16 minutes, until golden. Let cool 5 minutes on baking sheet, transfer to wire rack, and let cool completely. Repeat with remaining dough, Makes about 12 dozen cookies.