Pamela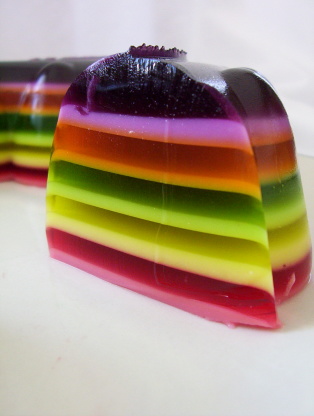 This is a show stopping dessert that will receive oohhs and aahhs at any gathering! This looks great made in a bundt pan or jello mold but also works in a 9x13 pan. Use your favourite flavours!

I have made this several times and it is a show stopper! This is what I found to be helpful. I mix up the 5 jello flavors right from the start. I line up the containers and divide the jello and add the milk mixture, respectively, so it is all ready to go and it can come to room temperature. It won't hurt the jello to sit out and you can throw it in the fridge or freezer for a few minutes while the previous layer is setting up. That way, you have the right consistency and it seems less hectic. I chose to use sweetened condensed milk as I never have coconut milk, but I think I will use it next time. I think the colors would be more vibrant. The sweetened condensed milk is sort of yellow and dilutes the true color of the jello. I doubt if anyone eating it cares about it, but I think the presentation would only be that much more astounding. Love this recipe!
This is a real make ahead dessert! Plan on it taking about 3 hours to make, the day before you need it. It only takes a few minutes every 20 minutes or so, but you can't let a layer set for hours before adding the next one, or you risk the layers sliding apart after unmolding. And, you want the finished mold to set up at least over night.
Lightly spray a bundt pan or 9x13 pan with non stick spray.
Wisk 1 package of jello into 1-1/4 cups boiling water in a small bowl at least 2 minutes until completely dissolved.
Pour 3/4 cup of the dissolved gelatin into 8-cup ring mold sprayed with cooking spray. Refrigerate about 15 minutes or until set but not firm. (It should stick to finger when touched). By placing it onto a level surface in your freezer you can speed up the process.
Refrigerate remaining jello in bowl about 5 minutes or until slightly thickened (consistency of unbeaten egg whites). Gradually stir in 3 tablespoons of the coconut milk and stir until well blended.
Spoon over jello in pan.
Refrigerate about 15 minutes or until gelatin is set but not firm (Again, jello should stick to finger when touched and By placing it onto a level surface in your freezer you can speed up the process.)
REPEAT process with each remaining jello flavor.
***It is very important to cool dissolved gelatin to room temperature before pouring into mold or the layers will not be well defined-but it will still taste good :)***.
Repeat steps again for a total of 10 alternating clear and creamy gelatin layers.
Refrigerate at least 2 hours or until firm. Unmold. For best results, unmold just before serving. Fill a larger container or clean sink with warm water, not too hot (otherwise it will melt). Rub a few drops of water onto the serving plate, this will facilitate adjusting the mold after unmolding, if necessary. Either use a plate with a large lip and just a little bit bigger than the diameter of the mold, or use a larger platter, at least 2-3 inches larger than the mold, because it will spread when unmolded and cut. Dip the mold almost to the edge into the warm water for just a few seconds. Wipe off with a towel and check the edges to see if they are loose, if not, repeat the dip for just a few seconds. Invert serving plate on top and flip quickly. Cut into 16 slices to serve. Store leftover gelatin in refrigerator.
This can be adapted easily for team colours, wedding shower colours, or even a patriotic mold. To create the colour white, simply use knox gelatin with the coconut milk.