lets.eat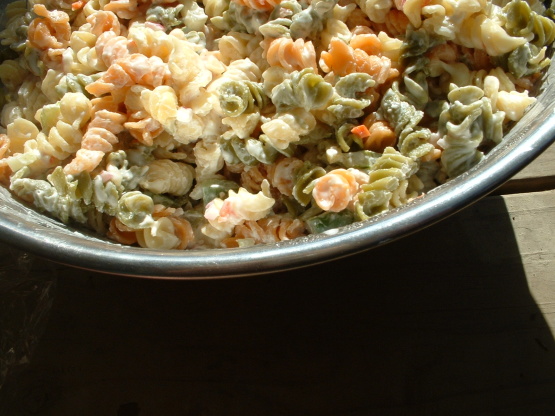 This is a sweet and tasty salad that I made for a potluck supper, it was well received by all. For the sweetened condensed milk I used #14062 by Darlene Summers with great success. Cook time does NOT reflect overnight refrigeration.

Made this weekend for my future in-laws' housewarming party, and everyone enjoyed it. I used part of a large sweet white onion, since that was on hand here, and after mixing the sweetened condensed milk, vinegar and mayo for the dressing I chose not to add any sugar. I can't imagine wanting it to taste any sweeter than it did and don't know what difference, if any, the sugar would make to the consistency of the dressing.
Cook pasta according to package directions. Rinse under cold water and drain; place in a large bowl. Add carrots, onion, green pepper and celery. In another bowl combine remaining ingredients. Pour over pasta mixture, toss to coat. Cover; refrigerate 8 hours or overnight.