rls1980k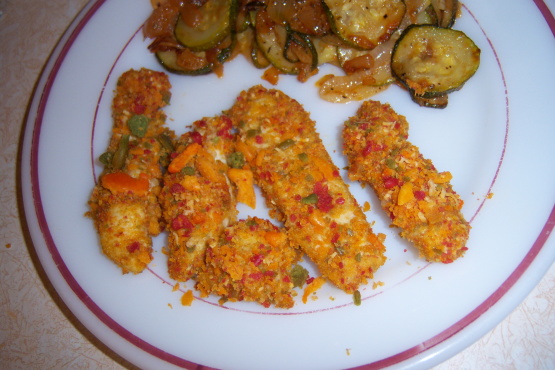 Okay, I probably didn't make this up, but I felt like I did. I was looking for something new to make that my kids would love. It was colorful and my 3 year old called it rainbow chicken. So easy and I liked it too! The amounts and times are not exact I didn't really measure as I was going along.

I am impressed with the ease of this recipe! I am learning how to cook, and I was able to follow the directions easily. My only concern was that the chicken didn't have enough flavor... but BBQ sauce quickly fixed that problem! Thanks for the inspiration! ;)
cut chicken breasts into strips (fingers).
Mix bread crumbs, goldfish crackers and parmesan in a large plastic bag and crush until coarse.
coat chicken with olive oil and roll (or shake into cracker mixture.)
Bake at 350 for about 40 minutes.