gailanng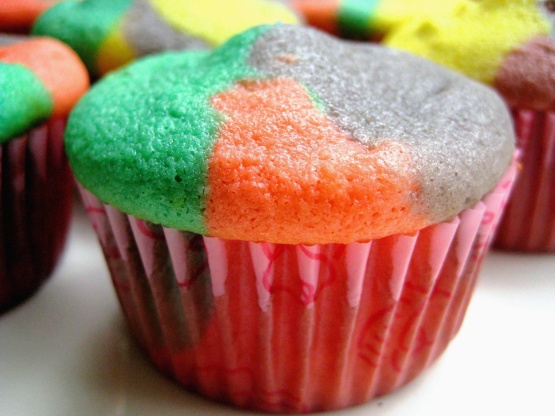 From the blog Picky Palate (http://picky-palate.com). These are beautiful and yummy.

I found that after adding the food coloring, put each colored batter into separate zip lock baggies, remove the air then cut a tip off of one corner of each bag, then begin filling your cupcake liners. This is a great way to have your kids help you, too. The same can be done with icing.
Preheat oven to 350 degrees F. In a stand or electric mixer, beat the cake mix, eggs, oil, water, sour cream and pudding on medium until well combined. Batter will be nice and thick.
Divide batter evenly between 5 white or glass bowls. Drop 5 different colors of food coloring into each cake batter bowl until you reach your desired colors. Stir well.
Spoon each color into paper lined cupcake tins until all are filled. Bake for 22-25 minutes or until cooked through. Remove and let cool completely. Frost with frosting of choice.