chia2160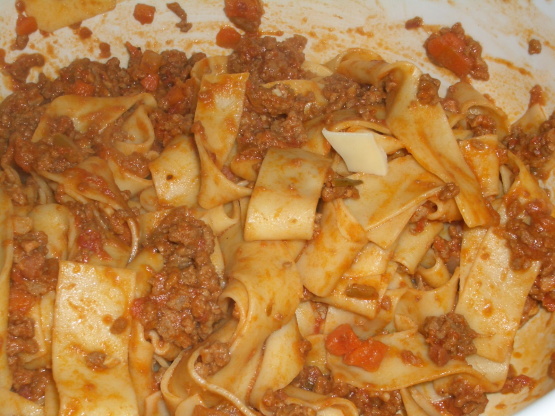 this is one of our favorite meat sauces although it is a bit of work. this works well with campanelle or penne to catch the sauce

A very good and authentic bolognese. It is amazing how many bolognese recipes are out there without the milk. That is not bolognese....that is meat sauce. This has the milk and it makes such a difference! I added a pinch of sugar to cut the acidity of the wine and the tomato. I also added a 14oz can of petite diced tomatoes, for a little chunkiness. The pancetta makes the dish.
in a large heavy pot heat oil and butter.
add onions, celery, carrots, garlic and cook until vegetables are translucent.
add the meats and stir, cooking until no longer pink 10-15 minutes.
drain excess fat from pan and return to heat.
add milk and cook until almost dry, about 10 minutes.
add tomatoes and herbs and simmer about 15 minutes.
add wine and broth, bring to a boil.
lower to simmer, and cook partially covered for 2 1/2 hrs, stirring every 30 minutes.
season with salt and pepper to taste.