Raggedy Ann Salad--Just for Kids
COOKGIRl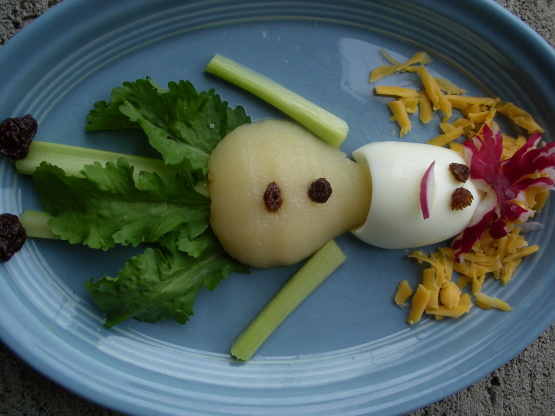 This is a salad the kids will enjoy. Hope you enjoy making it.

I own an old copy of Betty Crocker's Cookbook for Boys and Girls and this very same recipe is printed in the book! What a wonderful memory and I was both surprised and thrilled to see the recipe posted on Recipezaar! Sorry, I made Raggedy Ann look like she were abducted by space aliens, but ~Tasty~ and I did have fun making this treat today! I had to make substitutions for what I had on hand: pear for peach, added some radish for hair and mouth, arugula leaves for the dress, etc.
ARRANGE AS FOLLOWS:.
Place the peach half on a plate with the half of egg above it for the head.
Tuck the ruffled lettuce under the peach half body.
The celery sticks are the arms and legs.
The raisins will the stuck in for the eyes,nose, buttons, and the two shoes.
Put the cherry slice in for the mouth.
Arrange the grated cheese around the head for the hair.