Rafute (Okinawan glazed pork)
Tread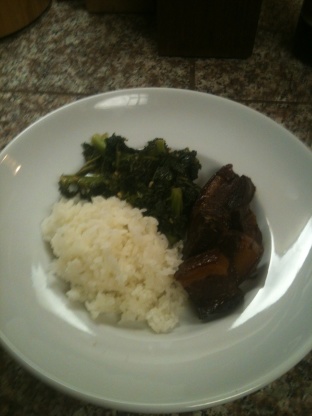 Rafute is a special-occasion dish, considered to be the epitome of Okinawan cuisine. Pork belly is broiled, cooled, and then slowly simmered in a delectable combination of sake, sugar and soy sauce until the meat is melt-in-the-mouth tender. As it is rich, serve in small quantities with rice.

Top Review by Tread
This was good. I have fond memories as a young Marine of lots of rafute atop of bowls of soba noodle soup with a tall Orion beer, nothing better on a cool evening after a long days work. Of course I didn?t have any soba noodles handy in Louisiana so I served it with some rice and sautéed kale. Warning, this might be a little different for some tastes, it is sweet, think of it more like pork candy instead of stewed pork. Thanks Daydream.
3

lbs pork belly

1

clove garlic, crushed

2

inches ginger, sliced

1

cup bonito stock or 1 cup dashi stock (if unavailable, use reserved pork stock)

1

cup sugar

1

cup shoyu (Japanese soy sauce)
1⁄2 cup mirin (Japanese rice wine)

1

teaspoon red food coloring (optional)
Place pork, skin side up, on the rack of a broiler pan, and broil until skin is browned.
Rinse pork under warm running water, scraping off any charred areas with a knife.
Place the whole piece of pork in a large pot, cover with water, bring to a boil, and cook 40 minutes.
Remove pork and reserve broth.
Allow the pork to cool, then slice into ½" thick, 2" x 2" squares.
Combine other ingredients, except mirin, in a thick, wide, shallow pot, and bring to the boil.
Lay the pork pieces in this sauce and cook, covered, for about 1½ hours over low heat.
If during this time the pan seems dry, add a little of the reserved pork stock.
As pork tenderizes, add mirin and cook a further half-hour uncovered, until pork is melt-in-the-mouth tender and evenly glazed with sauce.
When warming leftovers, do not add water or soup stock- instead, use sake (or bourbon/whisky), which is said to keep pork tender and juicy.