It sounds weird, but it's a great crunchy alternative to other cold picnic salads.
Directions
In a large bowl, combine radishes, cheese, onion, garlic salt and pepper.
In a small bowl combine salad dressing, sugar and mustard; mix well. Pour over the radish mixture and toss to coat.
Chill.
Serve on top of lettuce leaves; optional.
Most Helpful
This is, without a doubt, one of the weirdest recipes that I've made. I just had to try it and see what it was like, and I really loved it. I halved the recipe, but probably had a little more onions than needed. It's a winner, and I will be making it often.

It sounded a little weird, okay, but tasted great! I made this treat for my BF who loves radishes (that may be because he's from the midwest, I dunno). Instead of miracle whip, I used a canola oil based lite mayo and only added 1 tablespoon of Splenda. I ate up the leftovers for breakfast, haha. Thanks for the recipe! Made for PARTY game, December 2009.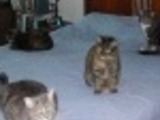 I decided not to give any stars because I want to try this again. I didn't have miracle whip or ranch and used light mayo. Maybe that is why I didn't care for the taste. Please don't get me wrong. I LOVE radishes and maybe I was just expecting that radish flavor....I really want to try this again and give it the stars it deserves. Thanks Parsley :) Made for PAC spring 2009