Rackhouse Pub's Beer-Baked Mac 'n' Cheese
Fraser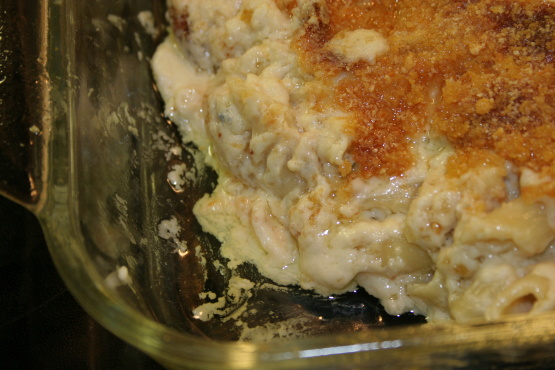 Just when you thought mac 'n' cheese couldn't get any better, the Rackhouse Pub in Denver decides to add beer to this quintessential comfort food. And it's magical. The recipe combines no less than five -- yes, five -- kinds of cheese in a rich base lightened with a cup of amber ale and then bakes it all under a crust of panko crumbs and Parmesan cheese to rich, crisp, golden perfection. The recipe was printed in the Los Angeles Times' Culinary SOS column.

Hope this gets to FRASER: At first glance the problem appears to be with the butter quantity ... 2 sticks is 1/2 cup. As a general rule, a roux is made from equal parts fat and flour ... so it should either be 1 C. butter (4 sticks) and 1 C. flour OR 1/2 C. butter (2 sticks) and 1/2 C. flour. It seems the "smaller" roux is the appropriate amount for this recipe.
In a medium, heavy-bottom pot, melt the butter over medium heat. Whisk in the flour to form a light roux. Slowly whisk in the beer and half and half.
Add the Brie and cream cheese to the sauce, stirring until the cheeses are melted and incorporated. Stir in the Gorgonzola, cheddar and 1 cup Parmesan cheese.
Stir in the pasta, taste and adjust the seasonings as desired with salt and pepper (some of the cheese will be salty and the mixture may need only a little salt, if any).
Pour the mixture into a 13-by-9-inch baking dish. Top the mixture by sprinkling over the remaining Parmesan cheese and panko crumbs. Place the dish in the oven and bake until the sauce is bubbly and the toppings are crisp and golden, about 1 hour. Cool slightly before serving.