Rack of Spring Lamb with Roasted Garlic
Laura Lu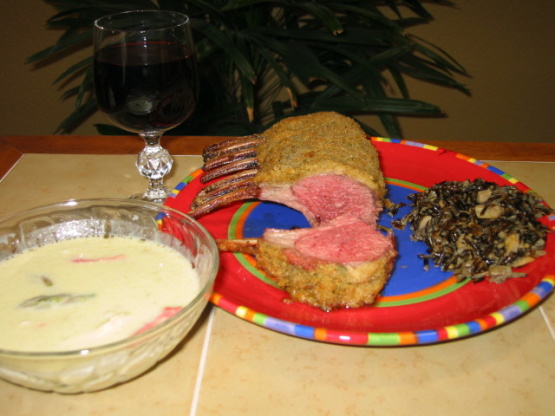 For this recipe, you (or your butcher) must first "french" the racks Trim off 2 inches of fat and membrane between the ribs to expose the tips of the bones, then cut through the backbone between the ribs to make carving easier. Fresh spring vegetables, such as asparagus, baby carrots and new potatoes, make a delicious accompaniment. Adapted from Williams-Sonoma Seasonal Celebration

This is one of the BEST racks of lamb I have ever eaten! (of course your lamb probably matters too), but this was soo good! And so easy to make! I followed all the directions except for the final cooking. I roasted it on indirect heat on my Weber kettle outside to 123 degrees internal temp. It continues to cook after you take it off. It went all the way to 135, but a nice medium rare. Rarer than Bergy's pic.. But it was so golden brown on the outside.. sooo perfect! I ate it with Wild Rice Almandine and Cream of Asparagus with Crab soup. I will try to post a photo if I can. Yes, roast the garlic! its a MUST for the wonderful sweeeeet garlic rendering that you get! Thanks so much Miel! Great recipe!
Preheat an oven to 400°F.
Discard the excess papery skin from the garlic heads and place in a small baking dish.
Drizzle with 1/2 Tbs.
of the olive oil and the water.
Cover with aluminum foil and bake until soft, about 45 minutes.
Let cool slightly.
Leave the oven set at 400°F.
Separate the garlic cloves and squeeze the pulp from the skins into a small bowl; discard the skins.
Whisk in the remaining 2 Tbs.
olive oil, the mustard, lemon juice and 1/2 tsp.
each salt and pepper.
In another bowl, season the bread crumbs with salt and pepper.
Lay the racks of lamb in a roasting pan side by side and fat side up.
Roast for 10 minutes.
Remove from the oven and immediately rub the garlic mixture over the fat side of each rack.
Then spread the bread crumb mixture over the garlic mixture.
Drizzle with the melted butter and return the lamb to the oven.
Continue to roast until the crumbs are lightly golden and an instant-read thermometer inserted into the thickest part of a rack, away from the bone, registers 130F degrees 135°F for medium-rare, or the meat is pink when cut into with a sharp knife, about 25 minutes more.
Remove from the oven, cover with aluminum foil and let rest for 10 minutes.
Preheat a broiler.
Uncover and place the roasting pan under the broiler 5-6 inches from the heat source.
Broil the lamb racks until the crumbs are deep golden brown, 30-60 seconds .
To serve, place the racks on a cutting board and slice between the ribs.
Arrange 2 or 3 ribs on each warmed individual plate.