Rack of Lamb with Toasted Hazelnut Butter
Bergy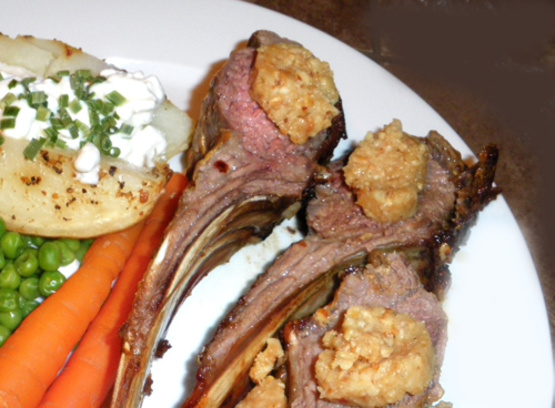 Nut Allergy Alert. To serve to fewer people, roast only 2 racks of lamb. Cut the mustard and salt in half. Freeze the remaining hazelnut butter for another time to use with more lamb, steamed green beans or asparagus. Prep. time includes 1 hour refrigeration to harden hazelnut butter.This recipe is also delicious cooked on outdoor grill. Ensure your coals are medium hot, and gas grill hot. Preheat shallow pan on grill, as well. Then follow roasting recipe as described. Serve with a Cabernet Sauvignon Shiraz.

Top Review by Bergy
This has got to be the best rack of lamb recipe ever. I can't describe the combination of flavors from the mustard, hazelnut, chili flakes and butter other than to say wonderful. I smeared the rack with the mustard and put it in the fridge uncovered for 2 hours. Roasted according to instructions. I like my lamb pink-this was great for me but it was quite pink so if you want it just pink add 5 minutes, just keep checking you internal temperature. After separating the chops placing the medallion of hazelnut butter on them I slipped them under the broiler for just a minutes to start the butter melting. Thank-you Toolie this is a very special recipe. 11 Nove 2009 Made again and enjoyed as much as last time. I managed to get Australian lamb and next to Salt Spring Island lamb it is my favorite.
Preheat Oven to 450 degrees F (230C).
Toast hazelnuts in dry, heavy skillet for 5 to 8 minutes or until they become fragrant.
Place in clean towel and rub to remove some of the skins.
Puree to smooth paste, in food processor or blender with butter and hot pepper flakes.
Form into 1-inch (2. 5 cm) cylinder and wrap in waxed paper.
Refrigerate for at least 1 hour or up to 2 days.
(Freeze for up to 2 months, if making ahead).
Set shallow roast pan in preheated oven and allow pan to get hot.
Mix mustard with salt and coat lamb well.
Place racks in hot pan, fat side up and roast for 10 minutes.
Reduce heat to 350F (180C) and roast an additional 20 minutes, or until internal temperature reaches 130F (54C).
Transfer to cutting board and let stand, covererd with tent of foil, for about 5 minutes.
Carve between ribs and top each chop with slice of hazelnut butter.