Rack of Lamb with Minted Pea Puree
Bergy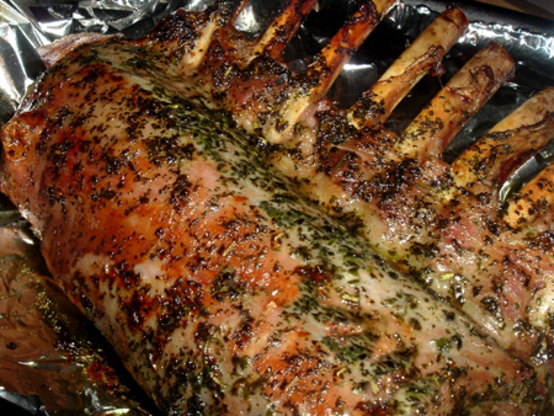 Mint and lamb are made for each other! I found this in an Aussie magazine, and it looks pretty good to me.

Top Review by Bergy
Love your lamb recipes Jan and this was no exception. Unfortunately I had already planned to use the last fava beans from the garden so I didn't make your minted pea puree - that's for another time. The mixture for toping the lamb adds great flavor - definitely a do again recipe. This was made for our Thanksgiving dinner and I give thanks for choosing it
Preheat the oven to 200 degrees C.
Place the lamb on a rack in a baking dish.
Place the mint, garlic, vinegar and sugar in a food processor and work until a paste forms.
Add the olive oil slowly to the mixture adding a little more if the mixture seems too thick-if the mixture seems too runny, add a few more mint leaves.
Season to taste.
Coat the lamb with the mint paste and marinate for 15 minutes.
Place in the oven and cook for 20-25 minutes or until done to your liking.
Minted Pea Puree: Place the potato in a saucepan and boil until tender.
Add the peas and cook for another 5 minutes.
Drain and place in food processor along with butter and mint leaves.
Pulse for a short time so mixture is smooth, but with a little texture.
Serve with the lamb.