Rack of Lamb With Cilantro- Mint Sauce
Satyne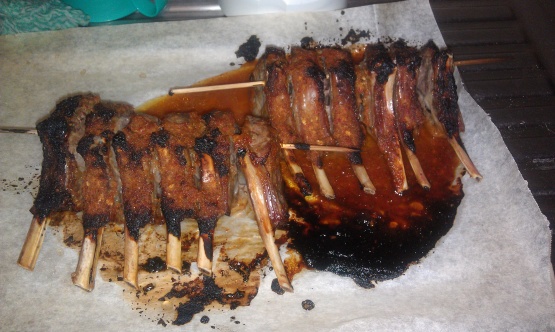 We had something very similar to this at a restaurant here in Big Bear on our first date. It was absolutely incredible. My eyes rolled back in my head and I couldnt stop eating. It was served with garlic mashed potatoes or herbed white rice, and we had creme brulee for dessert with raspberries for dessert. ABSOLUTE PERFECTION!

Top Review by Satyne
Made for PAC Spring 2012.

As you can see, I had to deviate a little due to a shortage of lamb racks at the local grocer. I also prepped a little differently. I had originally intended to stick as closely to the recipe as possible, however once I blended the 'sauce' I found it a little to strong tasting to just leave and then pour on at the end, so I apologise for the deviation here. I decided to pour the sauce over the 'rack' as a marinade and then went on to cook for the right amount of time. I'm really happy that I did, as the cutlets came out with a beautifully flavoured crust and the cooked down sauce was divine. This meal was a real pleasure to eat and I will most certainly use this again in the same capacity. Thank you for sharing.
Puree all ingredients except lamb in a blender. Let sit covered during cooking.
Preheat oven to 500* f.
Rub lamb with salt and pepper to personal taste.
Place baking pan in hot oven for 10 minutes, then place lamb fat side down on the pan for approximately 12 minutes for rare.
Spoon generous amount of cilantro mint sauce on plate, top with 3-4 bones of lamb.