Rack of Lamb (Mustard Crusted)
Darin R.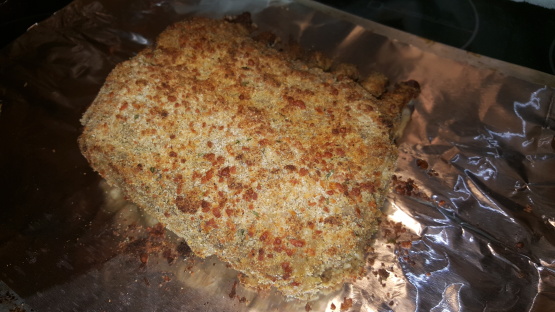 This is a wonderfully DELICIOUS recipe, especially when you want to impress someone.

This was excellent - I wasn't sure where to add the rosemary so I mixed it with the bread crumbs and Parmesan. I roasted it with the mustard and garlic at 450 for about 10 mins and then added the crumbs and returned to the oven until an internal temperature of 135 - medium rare. About 10-15 more minutes. The crust was crisp and tangy and complemented mint jelly perfectly. I didn't make the fig chutney - maybe next time!
Season rack of lamb well on all sides with salt and pepper.
Heat a medium skillet over high heat and, when hot, add the oil. When the oil is almost smoking, add the rack of lamb and brown well on all sides, about 6 minutes.
Transfer the lamb to a plate and set aside to cool slightly before proceeding.
Preheat oven to 450 degrees F.
Using the back of a spoon, spread the mustard evenly over all sides of the lamb. Spread the minced garlic over the lamb in the same manner.
In a small mixing bowl combine the breadcrumbs and grated cheese and toss to thoroughly combine. Using your hands or a spoon, spread the breadcrumb mixture evenly all over the lamb, pressing so that the crumbs adhere to the meat.
Place the rack of lamb on a baking sheet and bake for 12 to 15 minutes for medium-rare.
Allow lamb to sit for 5 to 10 minutes before carving into chops to serve.