Bergy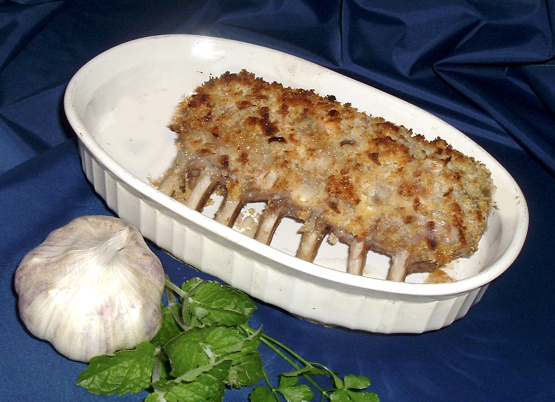 This recipe was printed in our local paper. It was submitted by request by a fabulous restaurant in our area that used to serve it. Unfortunately, the restaurant no longer exists. But, we remember it fondly every time we make this recipe. It can be doubled or tripled as needed. And, the prep work can be done well in advance of cooking and kept in the refrigerator. This is definitely one of our favorites.

Top Review by Bergy
This is a very tasty recipe that I enjoyed . My rack was quite thin, I roasted it for 20 minutes at 450F, I did not check the internal temp and it was a little rarer than I usually have it - it was wonderful. If you like it just pink check the temperature especially if you have a larger rack. I used Panko crumbs as I am not familiar with French crumbs - They formed a lovely crunchy crust.Thanks Normaone I just may have my lamb a bit rarer from now on
Mix bread crumbs with minced garlic, minced shallot and melted butter.
Preheat oven to 450°F.
Sprinkle meat with ground white pepper and lightly salt.
Sear rack in 2 Tbs hot oil, 30 seconds on each side to obtain color.
Brush with mustard on meat side.
Press bread crumb mixture firmly over mustard.
Place on baking sheet, crumb side up.
Bake until desired doneness, approximately 20 minutes for medium rare.
Use a meat thermometer to insure that the rack is cooked to your liking.
Remove from oven and let rest 5 minutes before slicing.