Bergy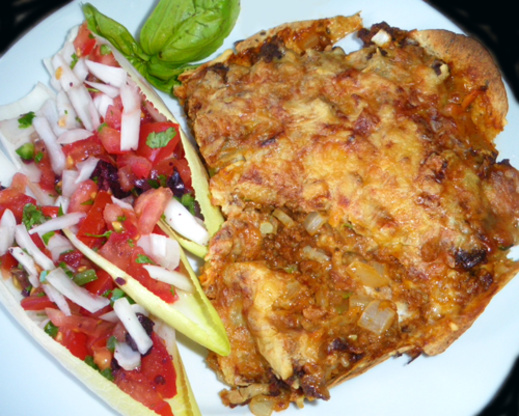 My employer fixed this and told me to try the leftovers. It was delicious. I haven't made it yet, but plan on trying my hand at it soon.
Loved this and love that it has some sneaked-in vegetables! Made this with some homemade tortillas and lots of cheese! Will definitely make this again!
Preheat oven to 400°F
Heat a large high sided skillet over medium-high heat with 2 tablespoons vegetable oil.
Add the meat and brown, 5 minutes.
While meat browns, grate the zucchini and carrots with a box grater.
Add the vegetables to the meat and grate in the onion and garlic.
Season the meat with chili, cumin, coriander, salt and pepper and cook 7 to 8 minutes more to soften vegetables.
Stir in beef stock.
Grease a 8x13-" baking pan with vegetable oil.
Layer in 3 overlapping flour tortillas and top with 1/3 meat, 1/3 cheese.
Repeat the layers twice and bake 10-12 minutes to brown cheese.
Top with scallions, lettuce and tomatoes, cut into squares and serve.