Rachael Ray's St. Paddy's Corned Beef and Cabbage Stoup
katew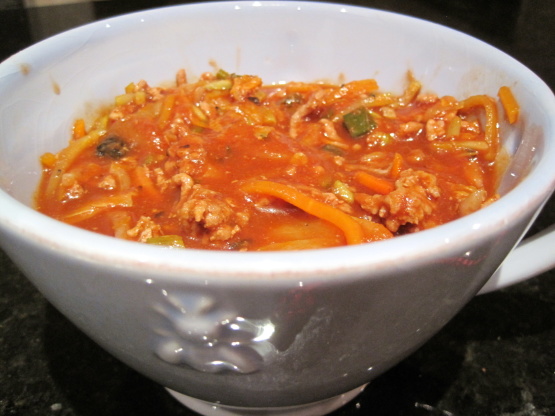 Found this recipe on Rachael Ray's website!! Great way to use up leftovers from your St. Patrick's Day feast!

Top Review by katew
Great soup ! I used a combo of both red and white cabbage. I had to use ground beef as it is tricky to find corned beef here. I could corn it myself which is too time consuming or I could try to find a deli that sells it in expensive slices. It certainly was good with the ground beef.
In a soup pot, heat the olive oil over medium-high heat.
Add the onion, celery, carrots and bay leaf and cook for 3 minutes.
Add the cabbage by the handful, season with salt and pepper and cook until wilted, about 2 minutes.
Add the beer and boil until reduced, 1 minute.
Stir in the chicken broth, tomatoes and the 2 tablespoons Worcestershire sauce.
Add the corned beef and rice.
Bring the stoup to a boil, then simmer until the rice is tender, about 15 minutes.
Season with salt, pepper and more Worcestershire sauce; serve the stoup in shallow bowls. P.
ass the bread and butter around the table.