Rachael Ray's Sausage and Fish One Pot
Z1621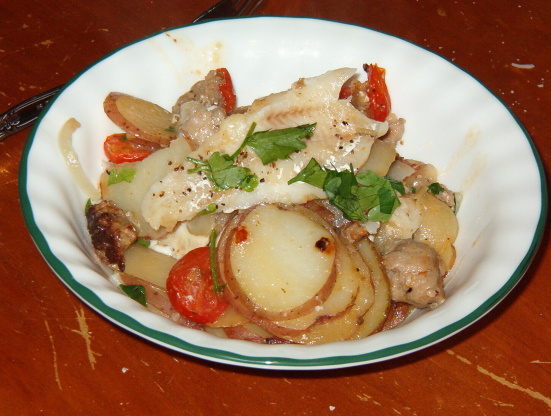 Recipe as described on foodnetwork.com. Slight variation based on how I made it.

Top Review by Z1621
Yummo! LOL!! Seriously this is very good. My husband saw it on food network and wanted to try it. He cooked it himself. I helped a little bit with the prep. He used red potatoes, haddock, mild sausage, and chicken broth instead of vermouth. It was very easy to make and is delicious. We ended up having 12 tiny little fillets b/c that's what was in the package so it cooked up pretty quick.
Heat 1 tablespoon of extra-virgin olive oil, a turn of the pan, over medium-high heat. Heads up: use a skillet with a tight fitting lid. Add the sausage and crumble while browning, about 3 to 4 minutes. While the sausage browns, crush the garlic. Peel the onion, trim off the root end and then thinly slice. Add the garlic, onions and potatoes to the pan with the sausage and season with salt and pepper, to taste. Douse the pan with half of the vermouth or wine, cover the pan with a lid and cook 10 to 12 minutes. Remove the lid, add the tomatoes and gently stir into the potatoes. Set fillets on top of the potatoes and douse with the remaining vermouth or wine. Season the fish with salt and pepper, to taste. Set lid in place and cook until the fish is opaque, about 6 to 8 minutes.
Top the fish with parsley, the juice of 1/2 a lemon and garnish with a liberal drizzle of extra-virgin olive oil. To serve, transfer the fish and sausage mixture from the pan into shallow bowls to hold the juice. Use the crusty bread to soak in the juices at the table.