Rachael Ray's Mamacello Pasta
teresas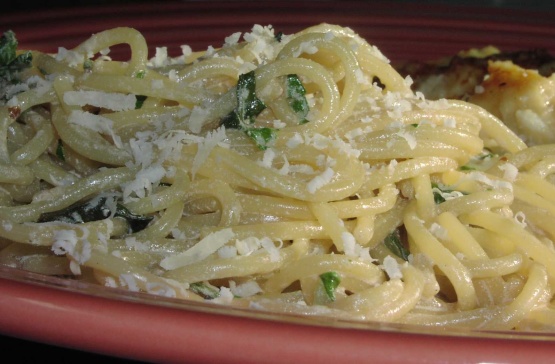 Rachael Ray says that her mother loves limoncello and she made this lemon pasta for her mom. My children love pasta in any form and they thought this was wonderful. I have to agree. Perfect for hot summer nights.

This recipe is absolutely delicious! I sauteed some chicken and added it when the sauce was finished, and used dry vermouth (in lieu of the wine) and whole wheat pasta. My son and husband were blown away by this dish, as was I. I agree with another reviewer in that letting the garlic, lemon zest and red pepper infuse with the warm oil really makes the incredible taste base for this dish. I heartedly encourage everyone to try this delicious recipe.
Bring a large pot of water to boil.
Add the pasta and salt the water.
Cook the pasta until al dente, 6 to 7 minutes.
Heat a large deep skillet over low heat and add the olive oil.
When the olive oil is warm, add the garlic and red pepper flakes.
Turn off the heat and set the garlic aside for 5 minutes, then raise the heat to medium, add the wine and lemon zest and boil to reduce the wine by half, about 3 minutes.
When the pasta is just about cooked, add a ladle of starchy pasta cooking water to the skillet with the sauce and stir in the heavy cream.
When the cream is warmed through, whisk the lemon juice into the sauce and season with salt.
Drain the pasta and toss with the sauce, then let the pasta stand for 1 minute so it can soak up a little of the sauce.
Toss with the parsley, basil and cheese.
Serve immediately.