Rachael Ray's Creamy Pasta With Spinach and Fried Capers
Rita1652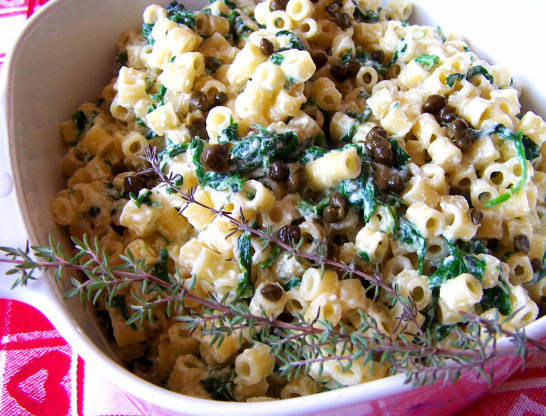 Source: Rachael Ray (30 minute meal)

I doubled this to be sure to have leftovers & wow, am I glad I did! What a nice, easy, delicious recipe! THE CAPERS - OMG. quadruple the capers so you'll have have enough left for garnish after snacking on them. I could eat fried capers forever. They taste kind of mustardy. They are crunch & soft & the oil squishes out when you chew them OMG, so delicious. ok...I used 2 6oz bags baby spinach, unchopped. I also chopped the garlic & left it in. I had no fresh thyme so I compensated by freshly grating the nutmeg. ;) Everyone loved this dish & there's just about enough for lunch tomorrow. Thank you! Made for Aussie Swap 3/14.
Bring a large pot of water to a boil, salt it, add the pasta and cook until al dente.
Drain, reserving the pot.
While the pasta is working, in a medium skillet, heat the olive oil, 8 turns of the pan, over medium heat.
Add the capers and fry until they open, 3 to 4 minutes.
Using a slotted spoon, transfer to paper towels to drain.
Add the garlic to the skillet and cook until lightly golden, 1 to 2 minutes.
Add the spinach and cook until wilted, 1 minute.
In the pasta pot, whisk the ricotta and milk over low heat until warmed through, 2 to 3 minutes.
Season with the thyme, some pepper and the nutmeg, if using.
Add the pasta and toss to coat.
Discard the garlic and stir the spinach into the pasta.
If desired, add some of the spinach oil from the skillet.
Top with the fried capers.