Rachael Ray's Antipasto Pizza
Cook4_6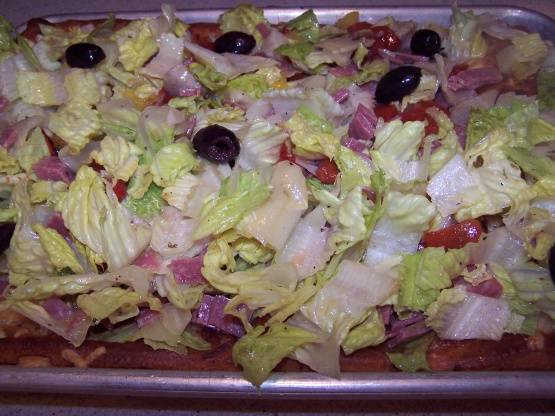 I saw this prepared on 30 Minute Meals and am posting it to try later. When I prepared this, I mixed in about 2 tablespoons of italian dressing with the toppings and put the "salad" on just before serving. Tastes great that way too!
Heat the oven to 425 degrees F.
Press dough onto baking sheet and top with garlic, cheeses, and pepper flakes and freshly ground black pepper, to taste, and bake 15 to 18 minutes.
Top the cooked pizza with lettuce, salami, roasted peppers, hot peppers, artichokes or mushrooms and olives, cut into squares and serve.