Rachael Ray Easy Egg Foo Young
Cook4_6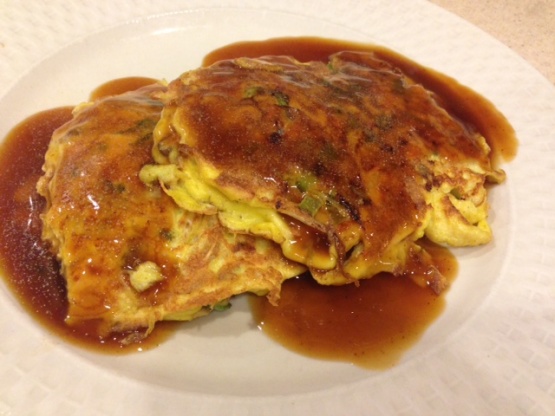 This recipe is easy and protein packed

I really enjoyed this egg foo young recipe, but switched out the pepper for crunchy snow pea pods. I found the sauce excessively salty, and recommend reduced sodium broth and Tamari. i had never tried to make egg foo young on a griddle before, and will always make it this way in the future!
Preheat a griddle over medium heat and brush it with some oil.
Whisk the eggs in a large mixing bowl. Stir in the chicken, mushrooms, bean sprouts, bok choy, carrots, scallions, bell pepper, grated ginger and garlic. Season with salt and pepper.
Using a large spoon, drop about 1/2 cup of the mixture onto the griddle for each "pancake". Cook until golden, 2 to 3 minutes per side.
Meanwhile, mix the cornstarch with a splash of chicken stock to dissolve. Combine the remaining stock, the cornstarch mixture, tamari, hot sauce and sliced ginger in a small saucepan. Boil until thick enough to coat the back of a spoon, about 3 minutes. Discard the sliced ginger.
Put 2 pancakes on each plate and top with the gravy.