Rachael Ray Chicken Fajita Tortilla Soup
R.Lynn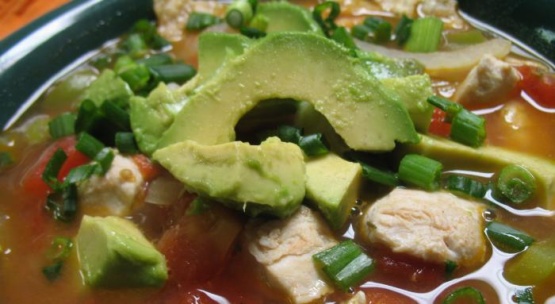 This looks just fantastic on TV that I am saving it here to try in the very near future! I'm guessing on the size of the bag of tortilla chips because it just said "1 bag" in the recipe.

I love chicken tortilla soups, and I'm always looking for different twists on it to spice things up. I had a package of fresh pre-cut fajita peppers and onions, so this recipe was a perfect fit. I added a little taco seasoning and some garlic powder and cumin to season the soup and a couple pinches of sugar to balance the acidity of the tomatoes. Don't substitute anything for the fire-roasted tomatoes! They make a huge difference! And don't skimp on the toppings! Cheddar cheese, green onion, avocado, sour cream, tortilla chips..yum! Delicious soup!
Heat a large skillet with extra-virgin olive oil, 2 turns of the pan, over medium-high heat. Add chicken, begin to brown 4 minutes, add coriander, thyme, salt and pepper, to taste, onions, bell pepper and jalapeno, season with salt and pepper, to taste. Cook 8 to 10 minutes, stirring frequently. Add tomatoes and stock, heat through.
While the soup is working, lightly crush some tortilla chips and divide among 4 bowls. You need a couple of handfuls per bowl. Top the chips with a little cheese. Toss the avocado with lime juice. Top the chips with ladles of soup. Garnish soup with avocado, scallions and cilantro or parsley.