Lisa M.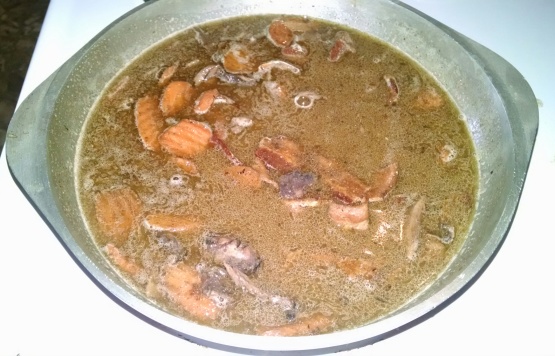 Marinating time not included in prep time.

Excellent! I almost followed the recipe, really I did! I had planned to serve the stew with boiled, quartered, baby red potatoes, pan toasted baguette slices, mixed leaf lettuce salad, and cellar temperature chianti. I then thought what better liquid to cook the potatoes in than the juice of the stew. It was fantastic! Next time I'll boil the marinade with the potatoes in it well before step 5. The last time the rabbit was a bit over done by the time the potatoes were tender. Thanx for posting this great recipe. Pierre
In a large shallow bowl, combine all the marinade ingredients together and stir to mix well.
Add rabbit pieces and baste them thoroughly.
Cover the dish and leave to marinate over-night or at least 12 hours.
Remove the rabbit from the marinade and dry on kitchen paper.
Strain the marinade into a jug and reserve. Preheat oven to 350°F.
In a flame-proof casserole, fry the bacon strips over moderate heat until they are quite crisp.
Set aside. Add the onions, garlic and carrots to the fat in the casserole and cook them 5 - 6 minutes, or until lightly colored red.
Add the rabbit pieces and turn frequently to brown them evenly and quickly.
Add the reserved marinade to the casserole and bring to the boil.
Remove casserole from the heat, add the bacon pieces and place in the oven.
Cook for 1 hour or until the thigh of the rabbit is tender when pierced with a fork.