JustJanS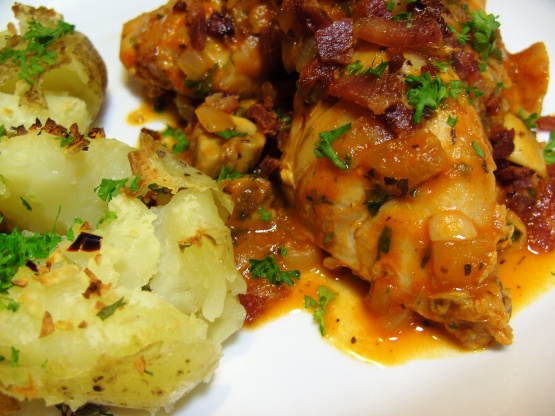 Serve over rice or with steamed new potatoes

Rabbit is an expensive and hard to get treat for us so I pick my recipes carefully. I don't own a slow cooker, so following your instructions (apart from omitting the flour) I just cooked this in a heavy based pan on very low for two hours. It was perfect sauce consistency cooked this way and didn't need any thickening-if it had I would have just remove the lid until it suited us.
Season the rabbit liberally with salt and pepper; in a large skillet, cook the bacon over med-high heat until crisp.
Transfer to paper towels to drain; crumble and set aside.
Add the rabbit to the hot bacon fat and brown on all sides.
Transfer to a slow cooker.
Add shallots and garlic to the skillet; cook, stirring, for 2 minutes.
Sprinkle with the flour, then add the wine; cook, scraping up any browned bits stuck to the pan.
Add in the tomato sauce, water, thyme, and basil; bring to a boil.
Pour over the rabbit; cover and cook on HIGH for 2 hours.
Add mushrooms to the slow cooker; cover and continue cooking on HIGH 1 ½-3 hours, until the rabbit is very tender and falling off the bone.
Taste and adjust seasonings to taste; serve garnished with parsley and crumbled bacon.