"Whatever Floats Your Boat" Brownies!
SharonChen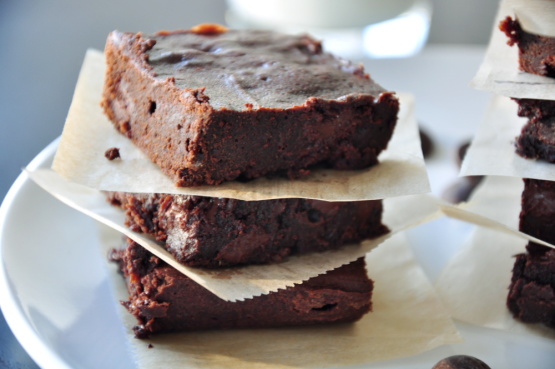 These are absolutely the chewiest, moistest, fudgiest brownies ever! I have tried adding so many different things to the batter, and they ALWAYS comes out great. They are also great without ANY add-ins! BUT by varying the add-ins, you can make different brownies every week (or day!!) SUPER EASY PREP! So, add "whatever floats your boat" and you will not believe how yummy they come out :) Oh, and the recipe doubles just fine--use a 9 x 13 inch pan instead and add a few more minutes of baking!

I made a batch with reese's chips, one with heath bits, and one with mint chips for Christmas goodies. Of course I had to try them all and YUM!! The one in the metal pan was a lot more cooked (and dryer) than the batch in the glass pan (very Moist).
Preheat oven to 350°F.
Grease an 8 inch square pan or line with foil.
In a medium bowl combine melted butter and cocoa and stir until cocoa is dissolved.
Add sugar and mix well.
Add eggs one at a time and stir until well combined.
Stir in vanilla, flour and salt until you no longer see any flour (do not overmix).
Fold in "WHATEVER FLOATS YOUR BOAT"!
Spread in pan and bake for approximately 25 minutes.
DO NOT OVER-BAKE -- your brownies will come out dry. Adjust time/temp accordingly for your oven. If you do the knife/toothpick test, it should come out with moist crumbs, not clean.
Cool completely before cutting into squares.
For vegetarian omit the marshmallows.
For double recipe, bake in 9x12 pan and add 5 minutes to baking time.