"it's That Easy" Graham-Cracker Delight
This recipe is so easy, and taste so great! Great for an afternoon snack for the kids, or even a filler-upper until dinner.
Directions
First, mix cream-cheese and powder-sugar in bowl.
Then, evenly distribute cream-cheese onto graham-crackers.
To top it off, try slices of strawberries, pears, etc. (Optional).
Reviews
Most Helpful
These are INCREDIBLE! It was like eating mini fruit cheesecakes. Would make a lovely appetizer or dessert at a party, but also perfect for a quick snack or light lunch. I'm so glad you shared this recipe. I love it!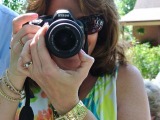 Delicious and simple! Can't ask for anything more:) This would be great at a Baby Shower or Brunch. Thanks for sharing!

Holiday Central >