"Cheeseburger-Stuffed" French Bread
eabeler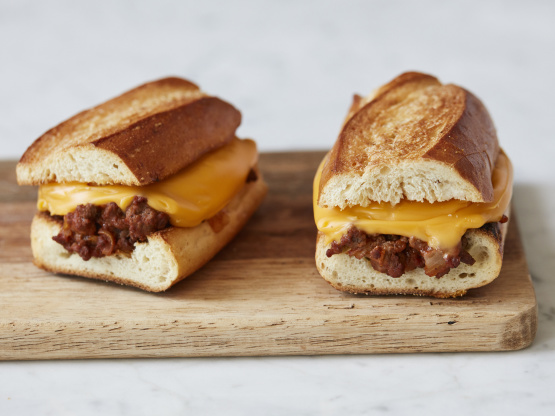 Even though this is an easy one--it's actually really good!

I loved this recipe, so easy and delicious! I typically use left over tomato/meat sauce I have made for spagetti and reheat a little, so basically it's like 3 ingredients, sauce, bun, and cheese....plus any 'burger' toppings anyone might want. Super idea!
Cook hamburger and onion, drain grease.
Add soup and spices, simmer 5-10 minutes.
Meanwhile, slice top third off bread, hollow out bottom half of loaf, leaving a 3/4-inch shell, save bread chunks, or feed to the birds!
Spread top slice of bread (cut side), with butter.
Place hollowed out bread on cookie sheet and broil till lightly browned.
Take out of oven and fill with meat mixture, top with cheese slices.
Place buttered top next to it, put back in oven at 350º; bake till heated through and top is toasted a little.
Put the top on, slice into wide slices for sandwiches, about 4-5 inches wide.
4-6 servings.