Quinoa With Peas and Sausage
IngridH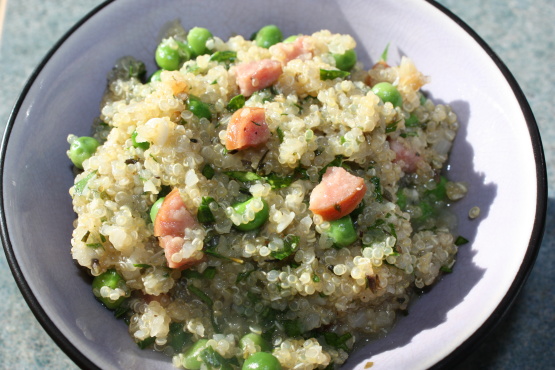 Another recipe that I've adapted from JustBento.com. Any ready to eat sausage will work in this, and I think bacon would be good as well. The peas could also be replaced with corn, sauteed mushrooms, or whatever else sounds good to you.

This was really good! I changed some things...I used chicken sausage, the spinach and red onion one. Also I didn't have mustard seeds so I just spiced things up with cumin and cayenne. I will definitely make this again. Quinoa is a staple in my house, and my boyfriend eats it so that is another plus
Sauté the onion, garlic and sausage in the olive oil over medium-high heat, until onions are limp and the sausage has rendered its fat and is turning a bit crispy. Add the well drained quinoa and sauté briefly until it is lightly browned. Add the mustard seeds and sauté for a minute or two, to bring out the flavor.
Add the broth and bring to a boil. Lower the heat, add the salt, pepper, herbs de provence, and put on a lid. Let it cook for 10 to 12 minutes, until the water has been completely absorbed and the quinoa is no longer hard. Add the fresh herbs and green peas. Taste, and adjust the seasoning if needed. I occasionally find that the quinoa is tender before all the liquid is absorbed. I just drain off the excess.
Serve warm or cold. This will keep in the refrigerator, well covered, for 2 to 3 days.