Quinoa With Leeks and Shiitake Mushrooms
NoNaNori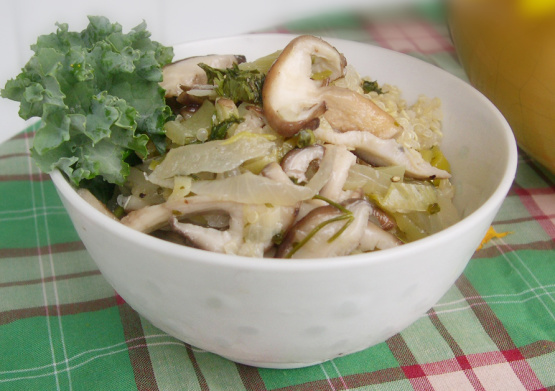 From Cooking Light. Per serving: 495 calories, 15.7 g fat, 15.8 g protein, 73.8 g carb, 7.9 g fiber, 0 mg cholesterol.

I wanted to like this I really did but I just couldn't. I found it very bland and I was very dissapointed as I had paid a lot for my Shitake muhrooms. I know this is a low fat recipe but some spices would liven it up. Not a keeper I'm afraid!
In a large saucepan, combine the broth, water, and 1/4 teaspoon salt; bring to a boil.
Stir in quinoa.
Cover and lower heat; simmer 15 minutes or until the liquid is absorbed.
Stir in parsley, 1 1/2 teaspoons oil, and 1/8 teaspoon pepper.
Remove from heat; keep warm.
Heat 1 1/2 teaspoons oil in a medium nonstick skillet over med-high heat.
Add in leek; stir/saute 6 minutes or until wilted.
Add in mushrooms, bell pepper, and wine; cook 2 minutes or until vegetables are tender.
Stir in 1/4 teaspoon salt and 1/8 teaspoon pepper.
Place 1 cup quinoa mixture in each of 4 shallow bowls; top each with 1 1/4 cup vegetable mixture and 2 tablespoons walnuts.