Quinoa With Ham and Cranberries
Prep 10 mins
Cook 30 mins

Quinoa...where have you been all my life? This grain is a new discovery for me, and a wonderful one at that. I like to have foods high in protein, and this one is packed. This recipe can be used as a side, or as a meal. Very tasty. One of the best things about this wholesome concoction is that it is equally as good cold as it is warm. The ham can be substituted with chicken or shrimp for a change of taste. See Quinoa-Toasted for toasting instructions.
Directions
In a small saucepan, bring broth and ham to boil.
Add quinoa. Reduce heat and cover. Cook for 15 minutes or until all liquid has been absorbed.
In a frying pan, melt butter.
Add onion, zucchini, red pepper, salt, pepper and cayenne. Sauté until vegetables are tender/crisp.
Stir in the cooked quinoa and cranberries. Heat through.
Enjoy!
Most Helpful
Wonderful way to prepare quinoa! Very delicious & satisfying, & I must admit that as much as I liked it in its entirety, I'm sure it will be just as great when I serve it, minus the ham, for my vegetarian son & DIL ~ They'd love it, I know~ Thanks so much for sharing the recipe! [Made & reviewed in Healthy Choices ABC recipe tag]
This was my first experience with quinoa and I was very pleased. I really lovedddddd the sauteed veggies mixed in with the quinoa. In fact, next time I will completely omit the use of ham. I thought the flavors were better served cold. Make sure you rinse the quinoa very well before toasting - this will get rid of the bitter taste of the quinoa. I will definitely be making this healthy dish again!! Thank you! :)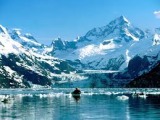 WOW! This was our first taste of Quinoa and this recipe has us hooked. I loved the mix of vegetables with the kick from the cayenne and the sweet from the cranberries, it's a perfect combo. I used the recipe to toast the quinoa you recommended. The cooking process took more like 25 minutes for all my liquid to be gone - I doubled the recipe and I'm sure that must have added to the cooking time. We loved it hot and are looking forward to trying it out cold. Thanks so much for sharing!