JustJanS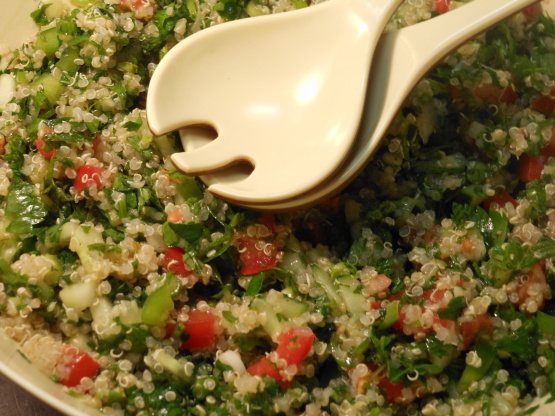 My first introduction to quinoa. A very good recipe that I make frequently. The serving size is estimated....
Put the quinoa in a wire strainer and thoroughly rinse with hot water to remove any bitter flavor.
In a medium saucepan, bring the water and quinoa to a boil over high heat.
Reduce the heat to low, cover, and simmer until the quinoa is tender and the water is absorbed, 10 to 12 minutes.
Let cool completely.
Stir the tomatoes, onion, cucumber and parsley into the quinoa.
In a small bowl, whisk together the lemon juice, oil, garlic and salt.
Pour over the quinoa and toss well.
Cover and refrigerate for at least 30 minutes before serving.