MC Baker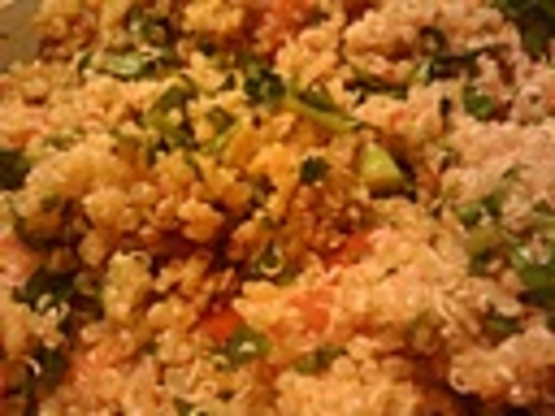 This is a non-wheat recipe similar to tabouleh. The quinoa is substituted for the bulgar. Cooked quinoa is lighter and fluffier than bulgar and personally I think it tastes better. It's lovely as a bed for grilled snapper or lamb. You can vary the ingredients used to your taste preference. Quinoa is gluten-free and can be used wherever tabouleh would be or in place of cous cous. Modern Middle Eastern flavours

I made this just as written thanks to my nearby Persian store with Sumac, a salad container full of rocket and some fresh herbs from our garden. I made this just as written except extra Sumac as I noticed salt was omitted. It didn't need the salt. I also cut back a bit on the olive oil. Great recipe! I used about a cup of arugala unpacked.
Cook 2 cups quinoa to 4 cups water bring to the boil. Reduce the heat and cover. Simmer for 15 minutes. Alternately cook to the directions on the pack.
Set aside on a flat dish, spreading it out to allow it to cool evenly.
When quinoa is cool, combine all ingredients and serve.