Quinoa - Stuffed Mushrooms
teresas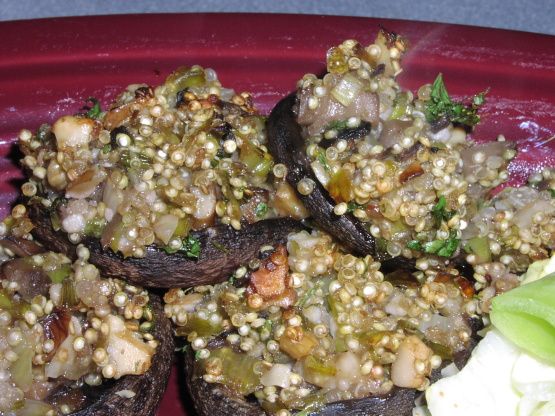 Adapted from a recipe I found in a store magazine. I had these today and they were yummy, not to mention healthy. Quinoa contains 5g of protein, 3g of fiber and only 1g of sugar per 1/4 cup and its also very low fat. Try it!

This is a very tasty recipe. The first time I made it, it did not come out so well. The quinoa was undercooked. I suggest using cooked quinoa by the directions on the package you buy it in and then mix all of the other ingredients together. The picture used on this recipe is not too appitizing. I suggest you take a new one and shape the filling as though it were ice cream on top of a cone. Besides those details the flavor is amazing. I love mushrooms, so this dish was a thumbs up. If you put the stuffing in smaller mushrooms you can use them as appitizers. My dad is a very picky eater, but just like me, he loves mushrooms, so he loved this recipe. I got him to eat quinoa! I am so glad that this is not only tasty, but also very healthy. Quinoa has all the same nutrients as meat, so it is the perfect substitution and vegetarian friendly. Of course I am not, but I always tell my vegetarian friends about the benefits of quinoa.
Preheat oven to 425°F.
Place quinoa in a bowl and fill with water swish around a few seconds. Let sit;.
Separate mushroom caps from stems.
Finely chop stems and measure out a generous 1/3 cup.
Spray caps with olive oil spray inside and out. Set on baking sheet open side up
Swish quinoa again and them drain in through a fine sieve strainer.
Heat 1 tbs grape seed oil in a skillet over med-heat. Add leek, garlic and reserved mushroom stems, sautéing until fragrant. Stir in quinoa and broth. Bring to a boil.
Cover, reduce heat and simmer till liquid is absorbed and quinoa is tender, 8-10 minute.
Stir in lemon juice, walnuts and parsley.
Season to taste with salt.
With a teaspoon, pack stuffing inside mushroom caps, mounding high.
Roast till hot and fork tender, about 10 minute
Serve hot or at room temperature.