Quinoa-Stuffed Green Bell Peppers
Bayhill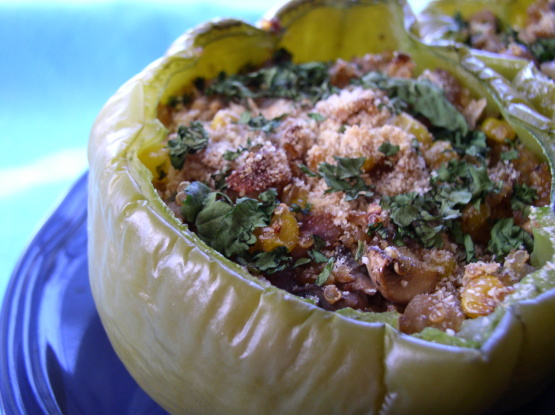 Haven't tried this myself; posted in response to a quinoa discussion.

Excellent! I have two daughters home for the summer that follow the vegan way of eating. I found this recipe was a great way to make one meal for the entire family. The filling has an excellent flavour. It would be nice on its own.I did not have mushrooms so I substituted celery. I substituted parsley for corriander.
Rinse quinoa under cold water; drain well.
In a saucepan, bring 1 cup of water to boil and then stir in quinoa.
Reduce heat, cover, and simmer for 15 minutes or until the water is absorbed and quinoa is translucent.
Cut 1/2-inch off top of green peppers and remove seeds.
In a large saucepan filled with boiling water, cook peppers for 5 minutes or until tender-crisp.
Remove from water and drain well, upside down.
In a skillet, heat oil over medium heat and cook onion until tender; stir in mushrooms, quinoa, corn, half the coriander, soy sauce, sesame oil, garlic and pepper flakes.
Stuff this mixture into peppers.
Sprinkle with bread crumbs and remaining coriander.
Bake in a greased 8-inch baking dish in a preheated 350F (180C) oven for 30 minutes or until heated through.