Quinoa, Spinach and Walnut Stir Fry
Prose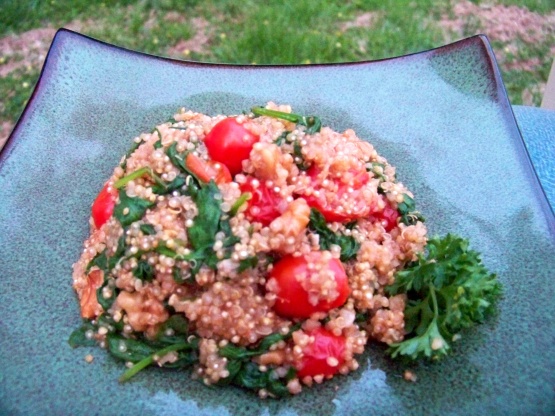 Recipe source: local newspaper

Super easy and tasty! It needed salt, but that was a simple fix. And it really does work with any kind of cheese. I only had pecans and goat cheese and it was FABULOUS. Thanks for sharing!
Place quinoa in a bowl, cover with water, drain well.
In a skillet, heat oil over medium heat. Add quinoa and cook, stirring for 10 minutes or until golden. Stir in garlic and cook stirring another minute. Stir in salt and 2 cups water. Bring to a boil, reduce heat, cover and cook over medium low heat for 15 minutes or until water is absorbed.
Stir in spinach and tomatoes. Cook over medium heat for one minute or until spinach is wilted.
Stir in walnuts and cheese.
Garnish with basil if desired.