Quinoa Salad With Chicken and Black Beans
daischop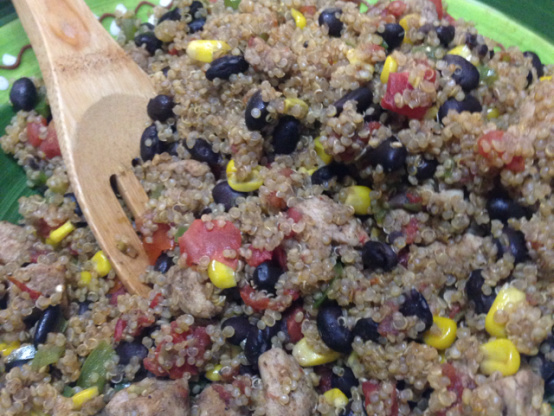 Quinoa is native to South America; in this recipe it is paired with other native produce - corn and black beans. Recipe is from Canadian Living.

Top Review by Nif_H
Fabulous! This made a fantastic lunch and I froze the rest in portions to take to work. I wasn't sure if the amount of spices would be too much, but it was spot on. Made for Went to the Market tag game. Thanks Deantini! :)
In saucepan, heat half of the oil over medium heat; cook garlic and paprika, stirring, until fragrant, about 30 seconds.
Stir in quinoa and add water; bring to boil. Reduce heat, cover and simmer until no liquid remains and quinoa is tender, about 15 minutes.
Meanwhile, in large skillet, heat remaining oil over medium-high heat; saute chicken, cumin, ground coriander, salt, pepper and cayenne until browned, about 5 minutes.
Add green onions, tomatoes, red pepper, black beans and corn; cook over medium heat, stirring, until red pepper is tender-crisp and chicken is no longer pink inside, about 5 minutes.
Transfer to large bowl. Add quinoa, cilantro and lime juice; toss to combine.