Quinoa Salad With Blackberries and Lamb
Satyne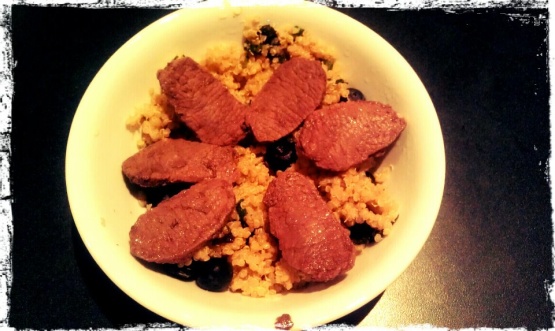 I made this salad at my restaurant with couscous and a few other differences. Since I can't eat wheat I made some changes to suit my "at-home" needs. Lamb Strip loin is out there! Make your butcher your best friend. Segments of blood oranges can easily replace the puree-- though their season is fairly short. That change-out might leave you wanting a bit of 'sauce'...

Top Review by Satyne
This was super yummy, however the recipe says olive oil and lemon juice, but neither are mentioned in the process. I just wonder where it was meant to be used. I ended up cutting the lamb beforehand (1/4") and cooking it in the olive oil. I just seasoned the lamb with salt. I also accidently bought blueberries instead of blackberrys (the little surprise bursts of tartiness were nice though). I was unable to source the puree so I just left the orange out. All in all, I'm really glad I gave this a go, it was my first venture using Quinoa, so it made it a good experiance for me. I feel great for making something so delicious and so healthy.
Rinse Quinoa, Bring stock and salt to a boil, add Quinoa and simmer until absorbed (15-20 minutes). Pour into a large bowl and cool. Add fresh herbs.
In a small bowl combine next 6 ingredients and pour over Quinoa. Stir. Refridgerate until ready to serve. This can be done up to a day ahead.
Heat a non-stick skillet or saute pan over medium heat. Add canola oil and heat. Add seasoned lamb loin and sear on each side 2-4 minutes (to desired level of doneness). Remove from pan and let rest 10-15 minutes. Slice paper-thin, the same direction as a beef strip loin.
Toss Quinoa with fresh blackberries. Serve lamb over Quinoa with a spoonful of Blood Orange puree over the top.