Quinoa Salad With Arugula & Sweet Potatoes
rpgaymer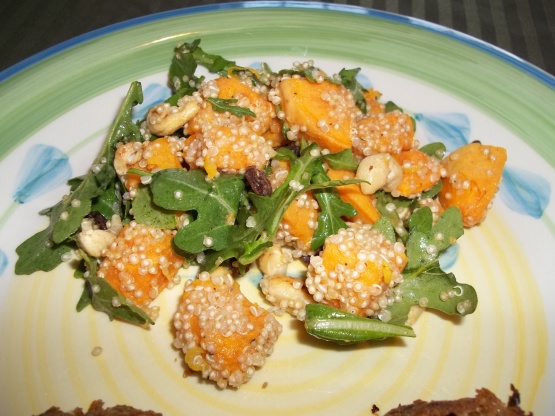 I've been hooked on quinoa lately, and this salad features it nicely. The quinoa and arugula give the dish a great earthy flavor, and it's all very easy to throw together. This recipe is enough for two vegan entrees, or four side dishes.

We really enjoyed this quinoa salad. Such great textures and flavors and so healthy for you too. The arugula is so delicious and a great addition with it's peppery bite to it. Will definitely make this salad again -- can't wait to make it for dinner guests. Made for PRMR, June, 2013.
Prepare a dressing for the salad by whisking together the lemon juice, lemon zest, olive oil, water, cumin and salt & pepper. Set aside.
In a small pan, lightly toast the cashews over medium-low heat for 2 minutes, or until slightly browned. Set aside.
In a large bowl, toss together the sweet potatoes, cashews, quinoa, raisins and arugula. Drizzle with dressing, and toss once more.