tamara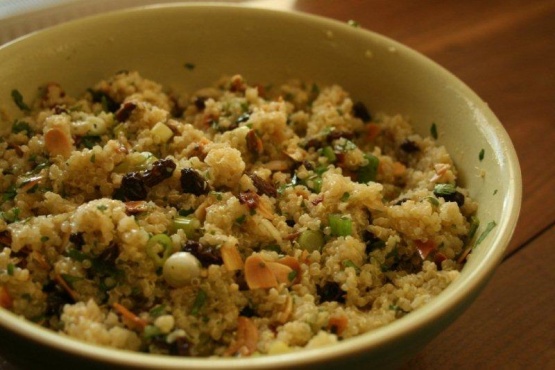 This is a riff on several quinoa salad recipes I've seen around. It's definitely just the basics - feel free to add whatever you like. The gourmet deli I worked at used the lemon vinaigrette with cherry tomatoes, cukes, bell peppers, and chickpeas; I like it with toasted almonds and raisins as listed below. Enjoy!

this is my DD2 idea of a great salad. I will rush out to the grocery store (like a demented Mother) and buy the ingredients to make this for dinner. i am sure it will be outstanding!!
Rinse the quinoa to remove the bitter coating. Cook quinoa according to package directions (bring quinoa and water to a boil, then cover and reduce to a simmer until all water is absorbed: about 10 minutes.).
Fluff quinoa with a fork and allow to cool to room temperature while you make the dressing.
Dressing: whisk olive oil into lemon juice and add garlic, if using. Add a big pinch of salt and ground pepper. Taste at this point - it will be sharp but add more salt if needed.
Mix dressing into quinoa and add raisins, almonds, parsley, and onion/scallion. Mix thoroughly and taste again for seasoning; the flavors will mellow a bit in the fridge.
Cool thoroughly and serve - this salad actually tastes better the longer it sits.