teresas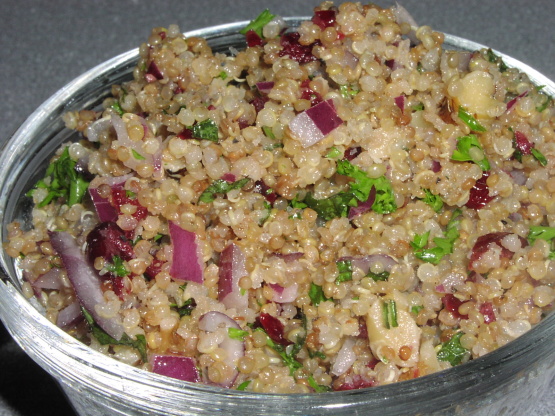 The secret is to use fresh herbs, and cook the quinoa just right. Great for picnics, or served as a side dish. Keeps well in the fridge for a couple of days (maybe longer - but it never lasts more than that in our house :-)

Love this recipe!! This is the only recipe I use to make quinoa. I omit the onions, because my husband is allergic. So I usually add onion powder to make up for the flavor. I always add more cranberries than the recipe says - just because I think they are delicious.
Put the quinoa in a pot with the water. Bring to a boil, cover, lower the heat to low, and cook covered for 20 minutes.
Remove cooked quinoa immediately from pot into a large bowl, and air it with a wooden spoon to stop the cooking process. Let cool for a few minutes.
Add the onion, herbs, dried cranberries and walnuts. Mix well with a wooden spoon.
Add olive oil, lemon juice, salt and pepper. Taste and add more lemon juice if needed.