luvmybge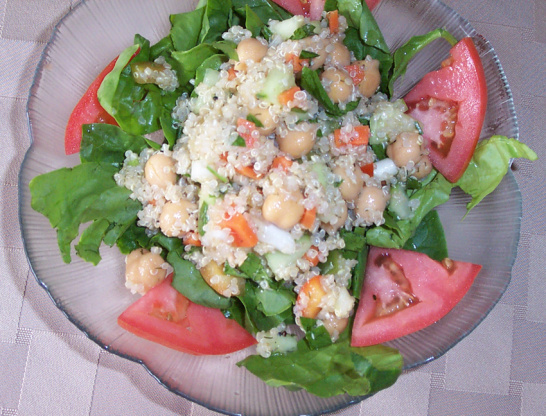 I got this recipe from my dear friend Jackie, and have been absolutely hooked on it since!

I loved this salad! It was easy to make, healthy and hearty. Plus it would transport easily. Strangely, I liked it best when it was freshly made, the nuts were crunchier and the lemon tartness came through better. After being covered overnight, the tang from the sauce sort of disappeared. So if I were making the salad ahead, I might wait to add the lemon and nuts until just before serving.
Rinse quinoa in cold water; drain well.
Combine quinoa with water in a medium-sized saucepan, bring to a boil, then reduce heat to a simmer and cover with a tight-fitting lid.
Cook for 15 minutes or until all water is absorbed. (Or, you may cook in rice cooker. Use same proportions as above.).
Remove quinoa from heat and let stand, covered, for 10 minutes. Remove lid, fluff with fork, and cool quinoa to room temperature.
Combine cooked quinoa with the rest of ingredients, toss well, and enjoy!