loof751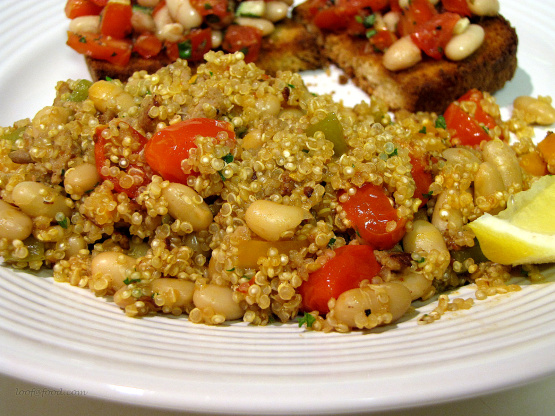 A one-pot wonder inspired by a recipe from Chilean chef Maria Eugenia Terragno. I make this with homemade lean turkey chorizo to cut down on calories.

I had a huge bag of quinoa from Costco so I was looking for some ways to use it. I used LightLife soy sausage and an entire package of frozen lima beans rather than two kinds of beans. I also added some cumin. We enjoyed this--thanks for posting!
Cover quinoa with cold water and soak for 15 minutes. Drain and set aside.
Heat a large saucepan over medium-high heat; add the quinoa and cook, stirring, until toasted, for 15 minutes. Transfer to a bowl and set aside.
Return pan to medium heat. Add oil and chorizo; cook, stirring occasionally to break chorizo into pieces, for about 10 minutes.
Add garlic, bell peppers, serrano pepper, onion, salt and pepper. Cook, stirring occasionally, until the vegetables are soft, about 5 minutes.
Stir in quinoa, both beans, tomatoes, and stock. Bring to a boil, reduce heat to low and cook uncovered until liquid is slightly reduced, around 15 minutes. Remove from heat and cover; let sit for 10 minutes.
Uncover and stir in parsley. Serve with lemon wedges on the side.