Quinoa Mexi 6-Layer (Ww Core)
DuChick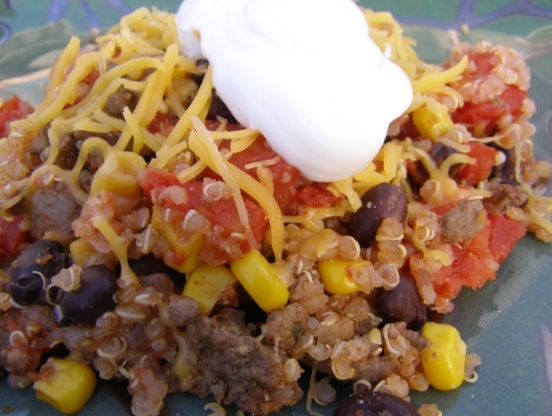 I stumbled across this recipe on the Weight Watchers Core board. It is absolutely 100% core. I have made it a couple dozen times since and have tweaked it to (my personal) perfection! It is so temptingly delicious and filling, I recommend taking a portion out and immediately freezing the rest in containers for lunches. It is great with a little No Fat Sour Cream as a condiment.

Top Review by HeathJ
Very good recipe! This was my first attempt at using quinoa - I want to start using it more, b/c of its health benefits. This was a great first impression!! I pretty much followed the recipe to a T, but I did spice it up a bit by adding diced jalapeno, cumin and ground chipotle pepper when I cooked the onions/garlic. And I didn't have any coriander, but I really wished I'd had some fresh cilantro, b/c that would be really nice as garnish on this. Otherwise, for small changes, due to using what I had on hand, I used diced tomatoes and frozen corn, as well as regular cheese. I don't think I did anything different that changed the niceness of this recipe, as is. Servec w/ a little bit of sour cream = perfection. I like the idea of using it in torts - we'll probably do that w/ the leftovers. Oh, one other thing - I should have used a 9x13, but I used a large casserole (smaller than 9x13) and it took much longer to cook. It definitely needs a 9x13! Thanks for great recipe! It's a keeper!
Prepare Quinoa: Rinse in a sieve under running water. Dry Roast in a skillet for approximately 7 minutes until a crackling sound is heard. Boil 1.5 cups of water in a small saucepan, add the dry roasted quinoa. Turn down the heat to low, cover and simmer for 20 minutes.
While quinoa is simmering, heat oil in large skillet. Add garlic and chopped onions, cook 2 or 3 minutes.
Add beef, spices and hot sauce. You may want to add a little salt and pepper here also. Brown.
Spread quinoa in a large baking dish.
Layer remaining ingredients in this order: Beef, corn, tomatoes, salsa, black beans and finally the grated soy cheese (Jalapeño flavor recommended).
Bake at 450°F for 20 minutes.
Broil for an additional 3-5 minutes to turn the cheese golden.