Quinoa Loaf With Mushrooms and Peas
Prose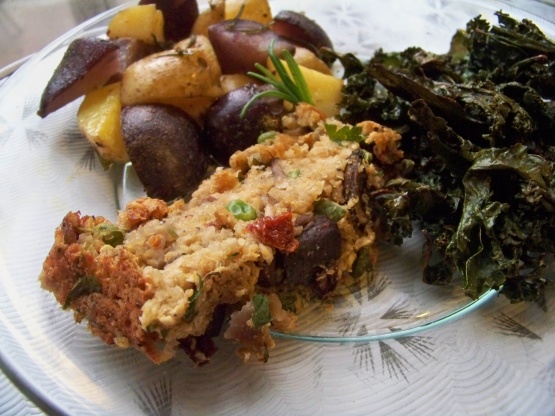 Per Whole Foods website, "Welcome spring--or vegetarian guests--to your table with this delicious main-course recipe that is destined to become a favorite for family and feasts alike. For killer veggie burgers, serve any leftover slices on toasted whole wheat buns with lettuce and spicy mustard." Quinoa can be expensive in chain grocery stores, however they do sell it in bulk at Whole Foods very inexpensively and I have gotten it at Super Walmart as well.

This was quite good! My quite carnivorous DH even agreed, which NEVER happens with a veggie loaf. The quinoa adds a really nice texture (plus protein--yay!), and I left some chunks in my bean/oat puree that added texture as well. Per JB's advice I cooked the quinoa (about 2/3 c dry came out to 2 cups for me) in veggie broth, which added a nice layer of flavor. I wish I had added more salt and pepper, though--for some reason the mixture was very flavorful but the cooked product was less so. Hmm. I served it with a vegetarian version of recipe #314890, mashed potatoes, and broccoli roasted with olive oil and kosher salt. Yummy meal! I froze the leftovers and can't wait to pull them out on veggie burger night--I can totally see how this would make a great sandwich! Made for Veg*n Swap, October 2010.
Preheat oven to 350°F Lightly grease an 8-inch loaf pan with oil; set aside. Heat oil in a large skillet over medium-high heat. Add mushrooms, onions, salt and pepper and cook, stirring occasionally, until mushrooms are golden brown, 6 to 8 minutes.
Meanwhile, put beans, oats and 1/2 cup water into a food processor and pulse until almost smooth. In a large bowl, combine mushrooms/onions, bean mixture, quinoa, peas, parsley, tomatoes, salt and pepper. Transfer mixture to prepared loaf pan, gently pressing down and mounding it in the middle. Bake until firm and golden brown, 1 to 1 1/4 hours. Set aside to let rest for 10 minutes before slicing and serving. (NOTE: I made this into mini loaves for portion control and cooked them for 25 minutes at 350 degrees and they were very dry. . .I do not recommend making them into mini loaves or patties).