lrn2trvl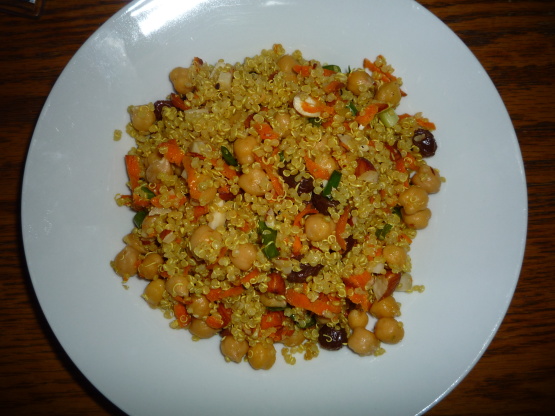 From Womens Health magazine. Reading through my magazine came across a number of summer salad recipes and they all looked great. I was inspired to make this and the Black Bean Mozarella salad tonight. Doubled the recipes to last for the week. Posted them here so I don't lose them.

My friends and I all enjoyed this! I used dry chickpeas that I soaked overnight and then boiled for about an hour, until tender. I was weary about the raisins, as I usually don't like them in savory foods, but they were a nice touch. It didn't have a very strong curry flavor (one of my friends doesn't like curry, so that was good for her). I think next time I'll add more. (Though, I am in Ireland, so perhaps the curry powder here is not very strong....)
Zest lime to produce 1 1/2 tsp zest and then juice both limes.
In a saucepan combine 3 tablespoons lime juice, quinoa, water, 1 tablespoon olive oil, curry and 1/2 teaspoon salt. Boil, reduce heat, cover and simmer for 15 - 20 min until quinoa turns transparent and liquid is absorbed. Cool and place in large bowl.
Add carrots, chickpeas, scallions, almonds and raisins. Toss.
In a small bowl combine 3 Tablespoons lime juice, zest, 2 tablespoons oil, 1/4 teaspoon salt, and 3/8 teaspoon pepper. Whisk until blended and pour over quinoa. Toss.