UmmBinat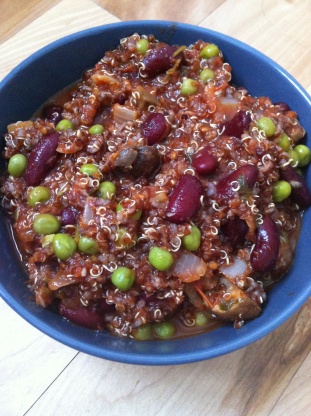 This is my favorite vegetarian chili recipe. It gets great reviews when I take it anywhere, I hope you enjoy it.

DD1 (5 years old), DD2 (15 months) and I liked this a little toned down on the heat. I used organic red quinoa. organic light tasting extra virgin olive oil, a large organic onion, organic garlic cloves, the spices, to taste except for the crushed red pepper flakes, oregano or caraway (forgot the last two!) organic mushrooms instead of zuccini and left out the bell pepper (I was making this with what I had on hand) organic crushed tomatoes that was like sauce, fresh flat leaf parsley, extra fresh organic cilantro, sea salt, freshly ground black pepper, no vegetable broth though I added a little water no where does it say to add the broth, and frozen peas in place of the corn (No GMO's please!!). Made for Healthy Choices Tag Game 2013.
1

cup quinoa, rinsed well

2

cups water

2

tablespoons olive oil

1

onion, chopped

4

garlic cloves, minced

2

tablespoons chili powder

2

tablespoons ground cumin
1⁄8 teaspoon cayenne pepper
1⁄8 teaspoon crushed red pepper flakes

1

teaspoon oregano, dried

1 -2

tablespoon caraway seed, crushed

1

red bell pepper, chopped

1

zucchini, chopped

28

ounces crushed tomatoes

28

ounces diced tomatoes

1

teaspoon parsley, dried
1⁄4 cup fresh cilantro, chopped

28

ounces dark red kidney beans, rinsed well
salt and pepper

2 -4

cups vegetable broth

1

cup frozen corn, thawed
-Bring the quinoa and water to a boil in a saucepan over high heat. Reduce heat to medium-low.
-Cover and simmer until quinoa is tender and the water has been absorbed, about 20 minutes. Set aside.
-Heat the olive oil in the pan over medium heat. Stir in the onion and garlic. Cook and stir until the onion has softened and turned translucent, about 5 minutes.
-Season with the chili powder, ground cumin, cayenne pepper, oregano and crushed red pepper. Cook 1 minute to release the flavor of the spices.
-Stir in the red bell pepper and zucchini, cook about 3 minutes.
- Add the tomatoes, parsley, cilantro, kidney beans.
-Season with Salt and Pepper.
-Simmer until the peppers and zucchini are tender crisp, about 20 minutes.
-Stir in the corn, fold in the quinoa.
-Return to a simmer and cook 10-15 minutes to reheat.